Updated: Jan 22, 2020
Yesterday, I spent some time strolling 5th Ave and stumbled into the New York City Public Library. As I walked in, I could feel the walls were just dripping in history - the architecture was so meticulous - and I loved seeing the reading room full of researchers, scholars, freelancers and students hyper-focused on their works. It nearly took my breath away seeing all these literary seekers coming together in one room to share space as they tirelessly worked. What a way to get inspired to read!
One of my personal resolutions is to read more this year. I've been diving into reading (and listening on Audible) like a maniac. I've carved my way through two and a half books since the start of January, which is unheard of for me! I've been loving listening to books on Audible during my morning work commute and listening while winding down at night before bed. Which is what led me to leisurely walk in to the most historic library in the city to take a peak.
A quick trip to the library or book store can be daunting if you don't have the time to aimlessly browse. It feels like a sea of titles and that you have to forge your way through to pick the perfect one. That nervousness of finding that next book can be overwhelming if you haven't researched prior to your book hunt. It's easy to browse on Amazon from the safety of your home to find your next story, but there is something exciting about walking into your local bookstore or library, talking to the tellers or librarians and getting some subjective perspective on what to read next. I thought I would make the process a little easier for you and curated a must-read list for Winter 2020. This list will be a good jumping point to navigate your next read!
Me in 2020: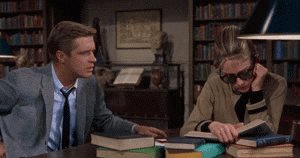 I'm giving you fifteen essential reads to start your year off right! A mix of fiction, non-fiction and self-help, these books are a balanced diet for your brain. Some of these books are ones I have finished and some I am adding to my discovery list. Each one unique and riveting in it's own genre. Read through this post to see a summary of each of these great reads.
Super Attractor: Methods for Manifesting a Life beyond Your Wildest Dreams by Gabrille Bernstein was the first book of 2020 I flipped through - and honestly I read through it like a maniac. It was SO good I couldn't put it down! She walks you step by step through the essentials of living in alignment with the Universe. This book is an unveiling of where your true power lies and how to attract amazing things into your life.
Where the Crawdads Sing by Delia Owens is a title that's been on everyone's tongues this past year. I have heard so many fantastic reviews of this novel from family and friends so inevitably it has made it to the list! I downloaded this book on my Audible app and have paved my way through four chapters so far, but I can't help falling in love with the independent, intelligent and kind girl that is Kya. This novel is an exquisite ode to the natural world, a heartbreaking coming-of-age story, and a surprising tale of possible murder.
Little Women by Louisa May Alcott made it to my reading list after being inspired by my sister, Lyndsay. During the holidays, Lynds was reading Little Women almost everyday she was home in Santa Barbara and told me how endearing the book was. Taking her lead, I went down to Chaucer's to purchase the 50th Addition. This novel has three major themes, domesticity, work, and true love. All playing major roles in the journey to womanhood.
Olive Again by Elizabeth Strought has been a hot topic online after becoming an Oprah's Book Club front runner. I have yet to dive into these pages, but if Oprah loves it, so will I! Because Oprah just gets it. The New Yorker has said that Elizabeth Strout "animates the ordinary with an astonishing force," and she has never done so more clearly than in these pages, where the iconic Olive struggles to understand not only herself and her own life but the lives of those around her in the town of Crosby, Maine.
Educated: A Memoir by Tara Westover has hit the New York Times, Wall Street Journal and Boston Globe best seller list. Which means, this is a dynamic and riveting read! In this memoir, Tara shares her childhood story living isolated in the mountains of Idaho with her family who kept her from the world. She was seventeen the first time she ever set foot in a classroom. Her quest for knowledge transformed her, taking her over oceans and across continents, to Harvard and to Cambridge University.
Shop this book on Amazon.
High Performance Habits: How Extraordinary People Become That Way by Brendon Burchard was gifted to me as a Christmas present from my dear friend and trainer, China Jones. I dove head first into this novel and have been loving the powerful takeaways. After extensive research, Brendon reveals the most effective habits for reaching long-term success in this book. He also has an incredible podcast too if you want to keep up with his tips and tricks.
Lean In: Women, Work, and the Will to Lead by Sheryl Sandberg is a chief operating officer of Facebook and coauthor of Option B with Adam Grant. In 2010, she gave an electrifying TED talk in which she described how women unintentionally hold themselves back in their careers. Her talk encouraged women to "sit at the table," seek challenges, take risks, and pursue their goals with gusto.
City of Girls: A Novel by Elizabeth Gilbert explores themes of female sexuality and promiscuity, as well as the idiosyncrasies of true love. With bounce back in the fiction department, Elizabeth provides another telling love story set in a 1940s New York theater. I loved every page of this book last summer and highly suggest it as your next fiction read!
A New Earth: Awakening to Your Life's Purpose by Eckhart Tolle is a mind-expanding read that dives deeply into powerful ideas thatshow how transcending our ego-based state of consciousness is not only essential to personal happiness, but also the key to ending conflict and suffering throughout the world. Marlene is currently reading this book, and told me how incredible it is. Over the holidays, she shared her insights on the book, plus Oprah gave this one a selection for her book club. And as we already know...Oprah knows how to pick em!
Star-crossed: A Novel by Minnie Darke is another fabulous fiction read to add to our list. Justine's astrological meddling of her childhood sweetheart's horoscope leads to a delicious, intelligent, and affecting love story about friendship, chance, and how we all navigate the kinds of choices that are hard to face alone. I loved this playful and sparkling romantic story between the two mains, Justine and Nick. Last summer, I just buzzed right through these pages during a beach getaway.
Our Year in Love and Parties by Karen Hattrup is a funny, and romantic novel, four nights of epic partying will see two teens through their highest highs and lowest lows over the course of one unforgettable year. I'm adding this one to the list because I am dying to read it this year! I've seen this novel pop up on several top lists as a coveted read.
Atomic Habits: An Easy & Proven Way to Build Good Habits & Break Bad Ones by James CLear is a proven framework for improving - every day. James Clear touches on habit formation, and provides strategies that will teach you exactly how to form good habits, break bad ones, and master the tiny behaviors that lead to remarkable results. I added another habit-based book because I think these are great reads to start off with in the new year if you are trying to nail down your resolutions and accomplish those goals.
Red, White and Royal Blue: A Novel by Casey McQuiston is a telling of America's First Son falling head over heels for the Prince of Wales. You'll be swept into Alex and Henry's love story as they face questions of identity and coming out amid familial and political duties. Oh boy, I just love a star-crossed romantic read! Adding this one to my discovery list was a no-brainer.
Talking to Strangers by Malcolm Gladwell powerfully examines interactions with strangers -- and why they often go wrong. In this book, Gladwell argues that something is very wrong with the tools and strategies we use to make sense of people we don't know. And because we don't know how to talk to strangers, we are inviting conflict and misunderstanding in ways that have a profound effect on our lives and our world. This Audible verison of this book brings societal tragedies to life, so definitely check this one out on tape!!
Everything is Figureoutable by Marie Forleo is an indispensable handbook for becoming the creative force of your own life. Marie is one of my most favorite motivational speakers and in this book she helps you retrain your brain to think more creatively and positively in the face of obstacles. It's a philosophy of relentless optimism. A mindset. A mantra. A conviction.
Nothing beats curling up to listen or read a book in your down time and I truly hope that this list inspired you to get your reading in gear this new year!